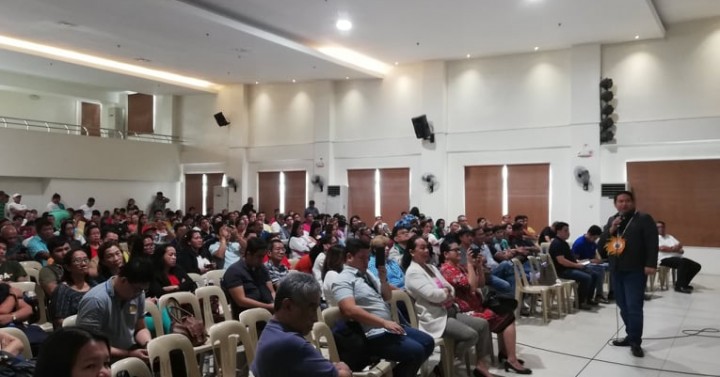 DILG and DDB highlight role of barangays in drug campaign
ILOITO CITY – Local government units, especially barangays or villages, play a critical role in reducing demand from the government campaign against illegal drugs.
Secretary Catalino S. Cuy, Chairman of the Dangerous Drugs Board (DDB), explained that demand reduction is one of the two pillars of the Philippines Drug Strategy (PADS) which was institutionalized last year in under decree 66 signed. by President Rodrigo Duterte. The other pillar is the reduction of supply, which is the work of the police.
Cuy, who delivered Senator Christopher Lawrence's message "Bong" Go to the Iloilo City Drug Summit here on Thursday, said demand reduction is focused on the consumer side.
"As part of our strategy, we are going to the grassroots; it is at the level of the barangay. Here we see the great role, mandate and potential of our barangay leaders, "he said, adding that village leaders are at the forefront of the campaign.
Officials from the barangay in that town and Sangguniang Kabataan (SK) attended the summit.
"We now place equal importance and equal importance on the demand side," Cuy said in an interview, citing that a significant effort has been made on reducing supply.
Go expressed gratitude to the city government for leading the summit as part of the anti-drug campaign, stressing that it was a priority for the Duterte administration.
"Your presence here today shows a strong commitment to providing a safe environment for your community," Go's post read.
He stressed that "prevention" is a key factor in PADS.
During the summit, the Undersecretary for Combating Illegal Drugs of the Ministry of the Interior and Local Government (DILG) RicoJanuary M. Echeverri said that the role of the barangays is to "organize" their Council of fight against drug abuse (BADAC) and "make it functional".
He said that DDB and DILG have developed a joint circular memorandum which outlines the indicators to determine whether BADACs are functional.
These include the action plan, the BADAC auxiliary team and the allocation of funds.
Irene Ong, president of La Liga ng mga Barangay of Iloilo City, said the summit is important because of the city's 180 barangays, only 10 have been cleared of illegal drugs.
However, Ong said they were not at fault because so far they had not received a response after being asked to submit the names of suspected drug figures in their barangays to the Philippine Drug Enforcement Agency. (PDEA) for verification.
The La Liga leader said that whenever there is a new PDEA leader, a new process is implemented.
"We wanted to know and be clarified if what the requirements are," said Ong.
The one-day summit was also honored by National Youth Commission Chairman Ryan R. Enriquez, representatives from PDEA, Department of Health, DILG, Philippine National Police and the Deputy Mayor. Jeffrey Ganzon. (ANP)