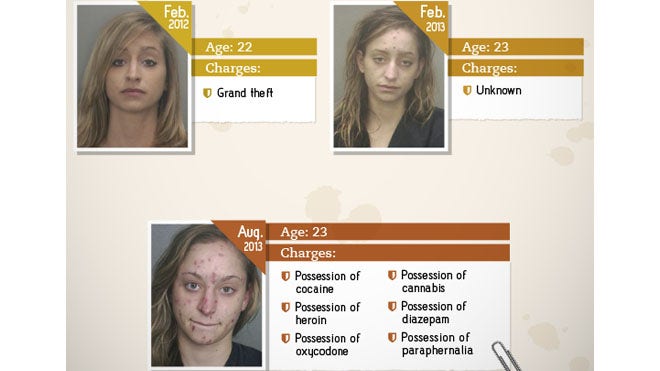 Faces of drug arrests: New drug campaign shows identity photos of drug addicts over time
A new drug campaign titled "More Than Methamphetamine: Faces of Drug Arrests" is garnering national attention for its striking images depicting the physical decline of drug addicts over time, as evidenced by their passport photos.
The campaign was created by the Rehabs.com website, which seeks to connect people seeking help with substance abuse or addiction issues with caregivers or professionals who can help them.
"The addiction epidemic is wreaking havoc in our country, in our society," Abhilash Patel, co-founder of Recovery Brands, owner of Rehabs.com, told FoxNews.com. "We want to draw attention and awareness to the devastating effects of these drugs and to compel or motivate people who want help to get it in any form, whether from us or from someone. else."
The multimedia campaign highlights the various effects that drugs, including cocaine, methamphetamines, heroin and oxycodone, can have on a person's physical appearance. The forms of physical destruction caused by these drugs range from tooth decay, facial sores, and accelerated aging to skin abscesses, scabbing, and severe weight loss.
To illustrate these effects, the campaign includes a series of passport photos of men and women between the ages of 18 and 54, who have been repeatedly arrested on charges of drug possession or possession of drug paraphernalia. . Images of the first arrests show young, fresh faces – but over time, and with more arrests, each person's physical decline is shocking, as they get older, scarred and scabbed. .
While the images are shocking, Patel said they were not intended to shame addicts but rather to draw attention to the devastating effects of addiction.
"We have no intention of challenging people or drug addicts or alcoholics or anyone who may be suffering from addiction," Patel said. "We think it's not about people, it's about drugs; the intention is not to stigmatize, but to raise awareness of the horrible effects of the drug.
The campaign follows a previous campaign that also featured faces of drug addicts, titled "The Horrors of Methamphetamines". After the previous campaign, Patel said Rehabs.com had received an influx of phone calls from people seeking help with substance abuse issues, in addition to those interested in reusing the images for educational purposes.
"We have law enforcement, border officials and education professionals who wanted to use it in their documents," Patel said. "And we want to support anyone as we can, if their intention is to try to stem the problem at the root of drug addiction in the country."
While the campaign recognizes that the physical deterioration seen in the ID photos used is not necessarily entirely due to drug use, it argues that, together, these images paint a clear picture of the dangers of addiction.
"For some reason, people really connect with images of faces," Patel said. "They see the faces of the people they love, the people around them and these drugs are all around us, and it's very impactful that way."
Click to learn more about Rehabs.com.